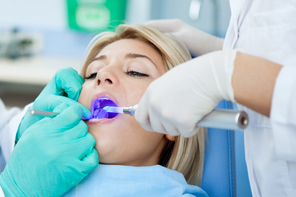 It's no surprise that research has shown that people who have a brilliant white smile are much more confident in the way that they look – more likely to smile, more likely to speak to a stranger, more likely to be comfortable going out with friends. If you are looking for a quick, easy, and virtually painless whitening treatment so that you can get some of that confidence then you should consider Zoom Whitening, a treatment offered that can completely transform the way that you look and feel.
You do not have to feel embarrassed about wanting to have your teeth whitened, as teeth will become stained naturally during our lives due to a variety of factors, including drinking tea and coffee, alcohol, and particularly smoking. Another key factor in the yellowing of our teeth is purely and simply aging, something that none of us can avoid! Zoom whitening is recommended in particular because it is suitable for people with sensitive teeth, and it works the same with natural teeth as it does fillings.
The process of Zoom whitening is very simple. Your dentist will use a special gel that uses oxygen to bubble up which will take all of the stains with it, and then a special infrared light, not too hot, will be used to lock in the bleaching. Before you know it, the entire process will be over and you will be able to leave the dental practice with noticeably whiter and cleaner looking teeth, so you can be more confident when you smile.
For the best zoom whitening San Diego dentist Dr Paige Woods is the person to go and see; she has offered this treatment to many before you, and is a true professional who understands that different people are looking for different looks. Make sure you talk to her about the results that you are hoping for from Zoom whitening.
Call (619) 359-6569 for a free Zoom Whitening consultation.