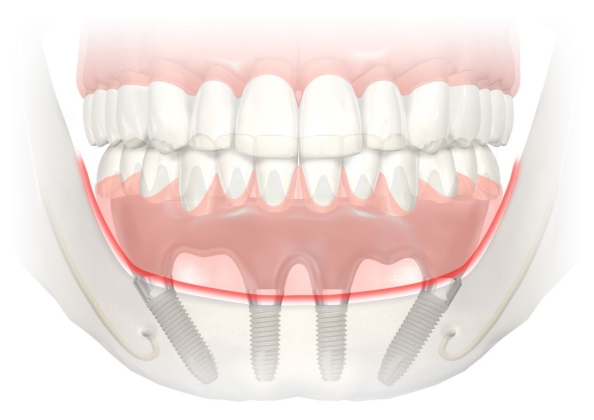 Implant supported dentures may sound like a slightly complicated thing, but actually it is remarkably basic. Put simply, when a person needs dentures they can either have them as temporary removable dentures that they have to take out every evening, or have them as permanent fixed ones that never come out. The trouble with the temporary ones is that they can cause an awful lot of friction along the gum, causing chafing and sores that are remarkably painful. Permanent fixed dentures, on the other hand, do not have this trouble, but they have to be attached to something in order to prevent them from moving around. Some will attach them using crowns but these can be quite weak, so the strongest way to do is to attach them to dental implants.
If you are concerned about having to have six or more dental implants in order to make implant supported dentures work, don't worry – dental technology has come a long way since then! There is now a method called All On Four, which means that you only need to have four dental implants in order for the entire denture to be supported, and in many cases a patient will already have one or two dental implants that their dentist can work with. This is much less complicated dental treatment compared to having several dental implants put into a patient's mouth, and that means that there is not only much less healing that has to be done, but also that it is less painful, and much less expensive!
Implant supported dentures can return complete stability back to you when you thought you may have lost it forever, and without the hassle and pain that you may have expected. Why not make an appointment with Dr Paige Woods, a brilliant dentist who offers the All On Four treatment, to see whether or not you a suitable patient for the treatment?
Reference: http://sandiegodentist.org/cosmetic-dentistry/dental-implants/dental-implants-complete-arch-permanent-denture-alternative/
Call (619) 359-6569 for a free consultation.